Artmellows Custom Figurines : Custom 3D printed Statues from Photos
If you have an idea I am inspired to make it real.
I will sculpt it, send you for review, and together we will see the magic happen. Send us a few pics for custom 3D sculpt
Manny Acharya
—— Digital Artist & 3D Sculptist
🎉Creating 3D custom figurines is a unique and creative way to bring your favorite characters or memories to life. As an Etsy seller, I specialize in creating custom 3D figurines that are designed to your specifications and bring your ideas to life.
🌐Using advanced 3D printing technology, I can transform your favorite characters, pets, or even yourself into a high-quality, fully realized figurine. With a wide variety of materials and colors available, you can choose the perfect look and feel for your figurine.
💠Each figurine is made to order, and I work closely with you to ensure that every detail is perfect. From the initial design process to the final product, I am dedicated to creating a one-of-a-kind figurine that you will cherish for years to come.
🔵Whether you're looking for a unique gift for a friend or loved one, or simply want to add a personalized touch to your home or office decor, a custom 3D figurine is a perfect choice.
Custom-made 3D sculpt
Our Trending & Most Popular Products.
Personalized 3D Custom Figurine, Human Sculpture Art for Room Décor, Custom 3D Printing, Miniature Bust Statue
Crafted Memories– 2d to 3d
Crafted Memories: Turn your cherished snapshots into tangible 3D custom figurines. Our 3D printing magic brings your moments to life, one layer at a time. 🌟🖨️🗿
Your Moment, Our Magic 2d-3d
Your Moment, Our Magic: Gift yourself or a loved one with personalized 3D custom figurines. Handcrafted from photos to 3D prints, they're the perfect blend of technology and emotion. Capture, craft, cherish! 📸❤️🖨️
Moments in 3D: Lifelke feeling
Moments in 3D: Dive into the realm of personalized 3D custom figurines. Send us your pics, and watch us transform them into breathtaking 3D prints. A moment is frozen, just for you! 📸➡️🗿🎨
Some Feedback
What Our Clients Say
About Artmellows 3D Sculpt and Artwork.

chucky on 11 May 2023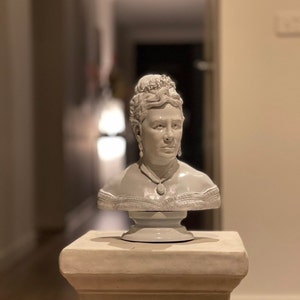 5 out of 5 stars
All of the above Manny went beyond the call not only as an artist but also his prompt response when i had questions, he is a great partner of Etsy hands down…..I ordered more busts!

Mandy on 16 Jun, 2023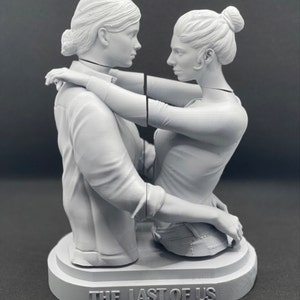 5 out of 5 stars
Super happy with my custom-made Ellie and Dina from the Last of Us game, Manny is a talented creator, with lots of detail and likeness to what I was after. highly recommend it for anyone wanting that custom design and print job, I'll be definitely purchasing from this seller again- Maddy
Sign in with Apple user on 25 Jun 2023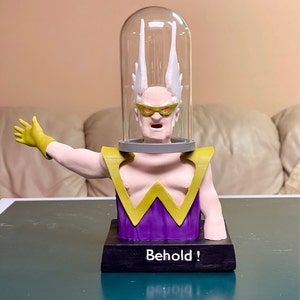 5 out of 5 stars
This was the fourth doctor figure I had Manny design and print for me: Dr. Weird. I have been thrilled with all of them! Manny is super friendly and always available. His work speaks for itself.

Alyssa on 02 Jul, 2023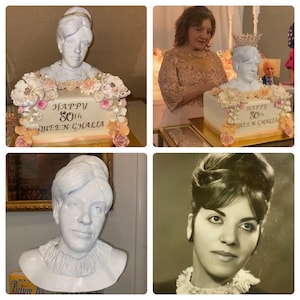 5 out of 5 stars
Manny was absolutely incredible to work with! He was easy to communicate with, adaptable when I wanted to change designs, and met the deadline perfectly! Manny is such a nice person and he truly cares about the work and it shows!
Read more…

Sign in with Apple user on 27 Apr, 2023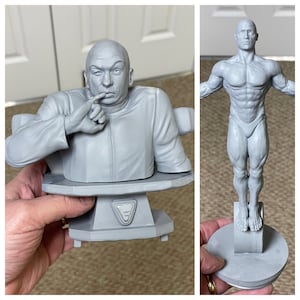 5 out of 5 stars
I ordered a Dr. Evil bust and full body Dr. Manhattan. Manny is a talented artist and worked with me until they were perfect! He got Dr. Evil's pose and facial expression down exactly how I wanted it. I highly recommend this shop!

Sign in with Apple user on 15 Apr, 2023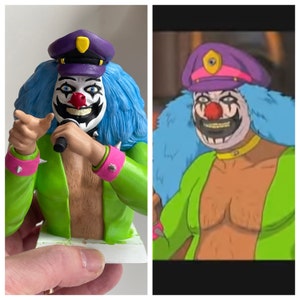 5 out of 5 stars
I commissioned a bust of Dr. Rockso from Metalocalypse, which I thought would likely be impossible to get right. After sending Manny a few pictures of the character, he nailed it on the first try. Afterwards, he was very accommodating with any adjustments I suggested. ..

Of Mice And on 06 Jul 2023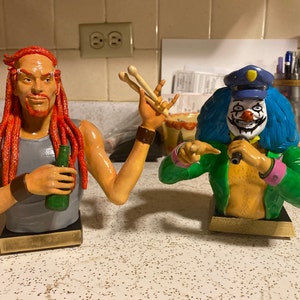 5 out of 5 stars
I could not be happier with my purchase! I commissioned some characters from Metalocalypse and he did such an amazing job with them, the quality is amazing, Pickles' drumstick broke in shipping but that's just because it was thin and came all the way from Australia. Otherwise they made it here safe. He did an amazing job with them and I will probably end up ordering more in the future!
Read more…

Angelo pilla on 25 May 2023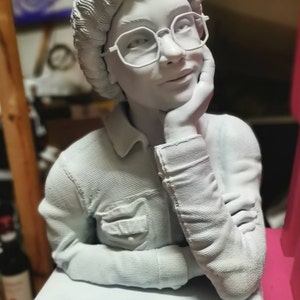 5 out of 5 stars
Manny is a true professional, available and open to dialogue. Able to create with you a sculpture that becomes a work of art when you do it with love. I received my damaged work and Manny made a new one and sent it back to me. What can I say, with him you go on the safe side for everything. Thanks Manny

no name here on 28 Apr 2023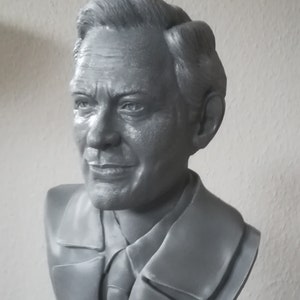 5 out of 5 stars
The bust is in high quality and Manny always insists that the customer is satisfied. If there are problems, we can talk about them. That's what I like about him and appreciate. Looking forward to the next project! 🙂👍
3D Sculpt & 3D printing Blogs