The Best 3D printer for miniatures
Searching for a low-cost 3D printer to buy? This article is a roundup of some of the most capable low-cost 3D printers for satisfying your creative 3D printing requirements..
Obtaining one of the top 3D printers for miniatures is likely to be a fantastic first step if you want to get into the world of 3D printing, which is gradually but surely becoming a phenomenon that is widely recognised.
There is a wide variety of form factors that can be found in 3D printers; therefore, it is important to break down some key features in order to figure out what you require based on your level of experience with 3D printing.
Affiliate Disclaimer: Artmellows.com may contain links to affiliate websites( Amazon and others), and we receive an affiliate commission for any purchases made by you on the affiliate website using such links. For more Info check our Disclosure here.
For instance, if you are someone who is just getting started, you might want to choose a more compact FDM printer that needs less setup if you are just getting started.
However, if you have more skill or if you require a 3D printer for professional use, purchasing a larger resin printer will allow you to achieve a higher level of detail in your designs.
It is now feasible to purchase a 3D printer for under $100, but just a few short years ago, the cost was $2,000 or more. Desktop 3D printers are more accessible and affordable than they have ever been, making it simpler to get started with the technology.
However, getting started may be a very intimidating process. What kind of printer do you recommend you get?
How much money do you recommend you spend? Which material—SLA (resin) or FDM (filament)—should you get? This post is intended to cut through such questions and provide clarity.
First, let's talk about the pros and cons of using filament over resin. People who desire to make little products with fine detail can benefit from using resin printers, in my opinion.
The market for them is huge, especially among miniature gamers, model railroaders, and modellers of every type and description. The print quality may be remarkable; but, these printers produce more mess, emit a slightly stronger odour, and call for cautious post-processing and control of liquids that are mildly poisonous.
For those who, on the other hand, wish to create products that fulfil particular practical needs, my recommendation is to use filament printers (rather than display needs). I use 3D printers for a variety of purposes, including but not limited to brackets, mountings, and practical tasks.
Please keep in mind that there are many different models; the ones we've included here aren't even all of them!
We have compiled a list of the top 3D printers to create miniatures for the money that you can buy in order to assist you in finding the appropriate instruments for the job.
Our Reviews are Genuine. In any List post Like this on our site, Editors' Pick/My fave/My Top Pick is the one that either we have tested personally Or Spoken to someone that tested the product personally.Additionally, We provide 9-10 Similar products for you to Choose from and Purchase. Check out our Product Review Disclaimer here
What is the Best 3d printer for miniatures?
What is the best 3d printer for Printing Miniatures in 2023?
When you're in the market for the best 3d printers( Resin) for 3D printing Miniatures, only the best will do. To us, while it's a tough choice, the best 3d Printer in 2023 is by far Anycubic Photon M3 ( Best overall & Editor's Choice for miniatures), Elegoo Mars 2 Pro ( For Pros ), and Anycubic Photon 4K Mono ( Cost-effective & Beginner-friendly)
Interested in some of our other top choices? Check out our comparison table below.
5+ Best 3d printers for miniatures
Our list of the top 10 best budget 3D printers in 2023 is based on features, price, specifications, real-world performance, popularity, and user reviews.
Anycubic Photon M3 – the best OVERall 3d printer and Editors Choice -We also recommend an AnyCubic washing and curing station- Available on Amazon here
Elegoo Mars 2 Pro ( Resin) – the best 3D printer for Miniatures Overall. We also recommend an Elegoo washing and curing station — Available on Amazon here
Creality Ender 3 V2 ( FDM printer)
Endor 5 Plus (FDM) 3D printer
Anycubic Photon 4K Mono (Resin)- the best value Resin Printer for Miniatures. We also recommend an AnyCubic washing and curing station — Available on Amazon here
1.Anycubic Photon M3 – the best OVERall 3d printer and Editors Choice -We also recommend an AnyCubic washing and curing station- Available on Amazon here
The Anycubic Photon M3 is an entry-level machine that boasts exceptional quality as well as a build capacity that is large enough to accommodate the majority of creators.
I went from Anycubic Photon X to Anycubic Photon M3 this year.
Trust me, Anycubic Photon M3 is a much better and No-hassle 3D Printing Experience.
PROS: It is Simple to operate
Quality of printing that is both robust and detailed
Excellent adherence to the bed
CONS: Because of the shape of the lid, it can be difficult to keep it clean.
The user interface is still very small, and there is no USB connector on the front. Upgrades do not bring any noticeable improvements.
The new Photon M3 from Anycubic is a resin 3D printer that is accessible to beginners without sacrificing quality.
Anycubic's previous starter machine, the Photon Mono 4K, has been replaced by this new model, which is slightly more advanced in terms of size, brightness, and resolution.
The Anycubic Photon M3, which has a list price of $299 and marries a real 4K+ resolution with a very bright 7.6″ LighTurbo LED matrix, is capable of generating beautiful prints that are on par with those produced by more expensive machines.
The Photon M3 is widely regarded as one of the most effective resin 3D printers available today.
It features an intuitive user interface, a strong metal vat equipped with a pour spout, and an anti-scratch screen protector to protect your display from accidental spills.
Cure & wash Station
ANYCUBIC Wash and Cure Station
Most Recent, Most Improved, and Most Convenient: The newest Wash and Cure machine has a lens that can be attached to the UV lamp beads.
As a result, the distribution of the light source's strength is more even, and the surface of the model is flatter.
Bottom curing now has no dead ends thanks to the automated rotating curing table that rotates around 360 degrees and the new bottom reflector. As a result, the entire model is treated more completely.
Dual-Function Washing and Drying Station:
The combination of cleaning and curing functions can not only eliminate the majority of the chemicals, resolve concerns relating to washing and mess, but also significantly streamline the entire post-processing procedure.
It is an expert answer to the nasty chore of cleaning up after your fantastic prints, and it also helps decrease the amount of clutter on your desk.
Adjustable from 1 to 60 minutes, the period may be customized for knob cleaning and curing.
Your specific do-it-yourself requirements might dictate how thoroughly each layer of the 3D printer model is cleaned and cured.
We earn a commission if you make a purchase, at no additional cost to you.
Best Overall Resin Printer
ELEGOO Resin 3D Printer Mars 2 Pro
The Elegoo Mars 2 Pro seems like a great 3D printer for making small things.
It looks like it was made well because it has a metal base and is made of CNC-machined aluminum. It also looks good because it is a black and red shade combination.
You'll also find that it has an easy-to-use leveling system that keeps things simple. This means that both beginners and experts can enjoy its power.
The Elegoo Mars 2 Pro is a resin printer, so it's best to make sure you're safe when you're working with it.
However, you should be able to make high-quality miniatures with lots of detail, as well as larger models.
Tech Info: Manufacturer: Elgoo | Type of Printer: Resin | Printing Volume: 129x80x160mm | Resolution: 2K
We earn a commission if you make a purchase, at no additional cost to you.
Wash & Cure Station
ELEGOO Mercury X Wash & Cure Station
Elegoo Mars Resin 3D Printers may use the build plate holder that is included with the Elegoo Mercury Plus (Amazon).
With this feature, You can clean the printing platform and the finished 3D-printed model at the same time.
Without having to remove the print from the build plate, the user is less likely to accidentally come into contact with the uncured resin, which can cause serious injury.
We earn a commission if you make a purchase, at no additional cost to you.
Best Compact Budget 3D printer
Official Creality Ender 3 3D Printer
WHY WE LIKE IT:
The Creality Ender 3 is an innovative step forwards for 3D printing. This level of excitement over a reasonably priced 3D printer is unprecedented. It is the most cost-effective and user-friendly low-cost 3D printer on the market because of ongoing iteration in response to customer input.
The Creality Ender 3 is equipped with a cutting-edge extruder technique
Pros:
Awesome print quality and good volume
cool & Compact device
Cons
Tech Info: Maximum Build Volume: 220 x 220 x 250 mm | Resolution: 0.1-0.4 mm | Technology: FDM |Product Dimensions: 8.7 x 8.7 x 9.8 inches; 17.64 Pounds |
We earn a commission if you make a purchase, at no additional cost to you.
Best for Pro 3D Printing
R QIDI TECHNOLOGY X-CF Pro Industrial Grade 3D Printer
WHY WE LIKE IT
As this printer is a dual extrusion 3D printer, it allows you to print in two different colors or materials at the same time.
Additionally, you can print in more than one material at a time. The end effect of this should be some models that have a very fantastic appearance.
Because this is a filament printer, the models you create should likewise have a high level of detail and should be of a high quality overall.
In addition to producing miniatures that are consistent with one another, the Qidi Tech X-Pro strives to make miniatures that adhere with amazing accuracy to the specs that are given for a model.
It also appears to include an easy installation process, which suggests that it should be an excellent option for novices as well as seasoned professionals.
We earn a commission if you make a purchase, at no additional cost to you.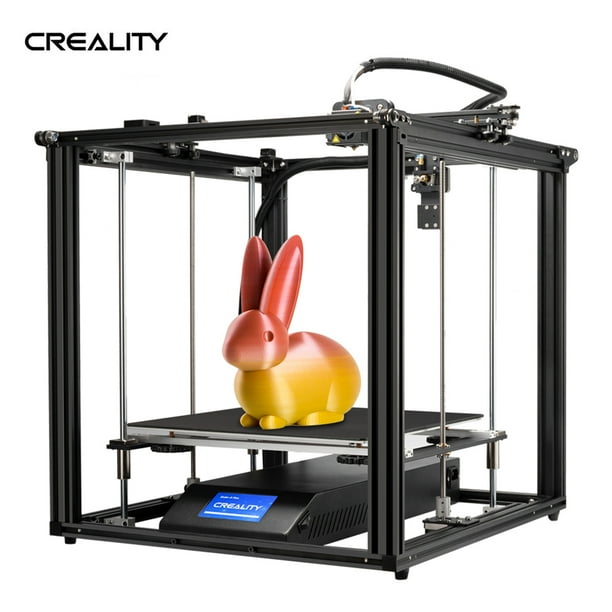 Creality 3D Ender-5 Plus 3D Printer
This is the Ender 5 Plus's main draw. The 350×350 mm dimensions will satisfy most users. It lets you print big without breaking.
Main power supplies the heat beds' aluminum resistance. It hits 60C in 5 minutes and 100C in 15m.
For big-format 3D printing, the Ender 5 Plus is a good machine. Even when stock, it has a large print volume and strong frame. However, a better extruder and board are needed to make this printer a workhorse.
This review's other enhancements only enhance printing. Over time, they can be added.
Like:
Sturdy cube frame.

Good print quality.

Flat heatbed with good adhesion.
Don't Like:
The extruder is Not so good and should be replaced as soon as possible.

The Ender 5 Plus uses a dated 8-bit board with noisy drivers.

Power supply is undersized.
We earn a commission if you make a purchase, at no additional cost to you.
Best for 3d Miniatures( Editor's Pick)
ANYCUBIC Photon Mono 4K -3D Printer
The Anycubic Photon 4K Mono is a great choice for 3D printing miniatures, especially if you are just starting out and want something more powerful.
This is a resin printer, so you should get high-quality models, and at 60mm/h, it prints much faster than other 3D printers, which should cut down on the time you spend waiting for models.
With the Anycubic Photon 4K Mono's 4K Mono LCD panel, you should be able to print models with a lot of detail and great precision, no matter how big or small they are.
Conveniently, the print volume is also a good size at 192mmx120mmx245mm, so you can print a few models at once if you need to.
Tech Info: Type of Printer: Resin | Printing Volume: 192mmx120mmx245mm | Resolution: 4K | Manufacturer: Anycubic |
We earn a commission if you make a purchase, at no additional cost to you.
3D Printer Buying Guide: How to Choose the Best Budget 3D Printer for miniatures
What characteristics should I search for in a 3D printer if I want to make miniatures?
If we were to make a recommendation, we'd say that the first thing you should do is choose between a resin printer and a filament printer.
Resin printers have the potential to generate models with greater levels of detail, making them a potentially superior choice for painting miniatures.
Filament printers are also capable of producing high-quality models, but they tend to be more effective when printing larger objects.
Since you don't have to deal with any chemicals in order to get them to work, setting them up is typically simpler, which is especially helpful when you're first getting started.
You will also need to hunt for a printer that is compatible with your setup, although this applies to a broader sense.
There are printers that can fit into smaller and larger spaces, depending on how much you've got, so make sure to get one that can fill any space you've got. The printers that can fit into smaller and larger spaces are listed above.
Features:
There is a tonne of options available for you to choose from in order to get your 3D printer set up just right.
Deciding what you'd like to have out of the gate – and whether you're comfortable getting your hands dirty in order to upgrade some features in the future – can help you settle on the appropriate purchase price.
Bed levelling, connectivity, user interface, motion systems, and extruder category are just some of the elements that are frequently taken into consideration. There are so many other options available that this topic could easily warrant its own essay.
The main idea is that you should select only a handful of the qualities that are most important to you and focus on those.
If you are comfortable adding minor items later, such as a BLTouch for auto bed-levelling, or changing things a little more significantly in the future, such as an extruder conversion, then forgo those features when you are buying.
The Materials That Are Supported
Thermoplastics such as PLA (Poly Lactic Acid) and ABS (Acrylonitrile Butadiene Styrene) are the types of materials that are utilised the most frequently in 3D printing.
These materials are available in the form of interchangeable filament spools when your printer runs out of them.
Models with a higher price point are able to accommodate a wider variety of materials, including TPU, Nylon, glass fibre infused, carbon fibre infused, metal fill, and even wood fill.
Print Bed
The area of a 3D printer known as the print bed is the location where the actual print is made.
It is possible to have a heated printing bed or a non-heated printing bed in a 3D printer. In order to print using ABS filament, you will need to utilise a heated bed, while printing with PLA filament does not require a heated bed.
It is crucial to use the appropriate print bed; failing to do so could potentially cause damage to the final result.
Protective Measures
Because a 3D printer works with heated plastics, which can be hazardous if they are not handled carefully, it is essential to get a printer that comes with built-in safety precautions.
For example, an FDM printer might cool the nozzle and heated bed once you have completed printing.
When the job is paused or the print is completed, the nozzle of some printers moves away from the object being printed. This helps prevent any damage from occurring as a result of heat or extra filament.
Cost & Size
Both the cost and the size of a 3D printer are very related. You can acquire a printer that is really amazing despite having a size that is relatively limited by today's standards and for a price that is somewhat lower than that of equivalents with slightly more space.
Take, for instance, the Artillery Genius Pro, which retails for about $349 despite having a construction capacity that is 220 millimetres by 220 millimetres by 250 millimetres.
When you compare that to the price of the Artillery Sidewinder X2, which is $489 but has the same feature set otherwise and measures 300 by 300 by 400 millimetres, you can clearly see the savings.
Quality
Products might be difficult to properly define at times, and if you're not an engineer, a product that "simply works" might appear to be a bit magical to you.
You should opt for a system that is recognised to generate high-quality parts and work reliably if you don't want the trouble of experimenting with your machine and just want good results.
Also Read: Best Printer for Art prints
SHOULD I BUY A 3D PRINTER?
Before you go out and buy supplies for your 3D printer, you should first consider what kinds of objects you want to print and how often you want to do so.
Before making an investment, you might want to check to see if there is a fab lab or maker space in your neighbourhood. This will give you the opportunity to test out the technology.
A 3D printer may be costly and have a challenging learning curve, depending on what you intend to use it for. I
f you talk to people who have experience using 3D printers, you will quickly be able to determine whether or not the technology is right for you.
You may even be able to take your first steps towards learning how to use the technology, as these spaces typically have machines that members can use – you can try before you buy!
Questions That Are Typically Asked(FAQs)

Should I invest in a 3D printer specifically for miniatures?
You can print whatever you want with a 3D printer, and even after that, you can print larger models in addition to miniatures, so it's a good investment to have one if you're into miniatures.
This is just our humble opinion, but we think getting a 3D printer for miniatures is definitely worth the investment.
What kind of 3D printer is best for making miniatures, and how much should I spend on it?
This whole thing is going to be determined by the kind of printer you're looking for and the size of the surface area you need to print on.
Smaller printers can cost up to about $500, and they are likely to be good all-rounders for both beginners and professionals alike.
On the other hand, if you want something with more connectivity options and a larger print area with features such as dual extrusion, then you could be looking at spending four figures on the printer.
---
About the Author:
Manny Acharya is the co-founder of Artmellows. Your go-to place for Design, Digital Art, Digital sculpting, Photography, Design Tools and gears Info, and Product Reviews. Manny is a Digital Artist, 3D Sculpt Designer, Ardent Photography, Drone flying Enthusiast, and tech Lover. He supercharges Digital Art and design by crafting memorable 3D sculptures & 2D Design and art. Learn more About Manny:
PS: Manny has created a Beginner Friedly ebook to Learn the Nomad 3D Sculpt App. Know More about the eBook. Know more about Manny