Custom 3D printed figurines
Hey peeps! 🌟 Ever thought about freezing a moment in a cool, 3D way? Well, Artmellows has got your back! 😎
Introducing Artmellows Custom Figurines: Turn your cherished photos into super rad 3D printed statues! 🖼️➡️🗿 Whether it's that epic jump on the beach 🏖️, your Grammy's classic dance move 🕺, or even just your furbaby's most adorable nap pose 🐱💤 – we can make it 3D!
Just shoot us a photo, and our magical crew at Artmellows will transform it into a custom figurine, oozing with personality and crafted to perfection. Each piece is made with a blend of creativity 🎨, techy wizardry 🧙‍♂️, and a sprinkle of love ❤️.
Thinking of gifts? These bad boys make the BEST presents ever 🎁. Imagine gifting your BFF a statue of that hilarious karaoke night 🎤, or surprising your SO with a 3D memory from your first date 🍝❤️.
Ready to take your photo game to the 3D level? 🚀 Dive in, and let's create some tangible memories together. And hey, why keep memories flat when you can pop them in 3D? 😉
Ping us! 💌 Let's roll and mold! 🎊 #3DPhotoMagicByArtmellows 🌈🎨
Custom-made 3D sculpt
Our Trending & Most Popular Products.
Personalized 3D Custom Figurine, Human Sculpture Art for Room Décor, Custom 3D Printing, Miniature Bust Statue
Discover our trending hits! Dive into a curated collection of our most popular products, handpicked by our customers. From innovative gadgets to timeless classics, these bestsellers are flying off the shelves. Don't miss out on what everyone's talking about. Grab your favorites now! 🌟🔥🛍️
Personalized 3D Custom Figurine & Photo to 3d print
Human Sculpture Art for Room Décor, Custom 3D Printing, Miniature Bust Statue.
Specific and custom-made for each buyer. An Ideal gift for your friends, and family on occasions like anniversaries, birthdays, or celebrations. Already have some happy customers.
Custom sculpt by Photo- 2D to 3D Sculpt & 3D print
Transform your 2D designs into stunning 3D sculptures with our 2D to 3D sculpting and 3D printing services! Whether you're an artist, designer, or hobbyist, our expert team can bring your ideas to life by creating high-quality 3D models from your 2D designs..
Pet Memorial Figurine- Detailed and Lifelike!
Perfect for Honoring Your Beloved Furry Friend. Cherish the memory of your beloved pet with our Custom Pet Memorial Figurine. Each statue is meticulously handcrafted to mirror the unique features and personality of your pet, serving as a timeless tribute to your special bond.
Featured Artwork-Custom 3D figurines
Some Feedback
What Our Clients Say
About Artmellows 3D Sculpt and Artwork.

Mandy on 16 Jun, 2023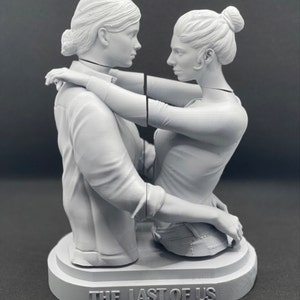 5 out of 5 stars
Super happy with my custom-made Ellie and Dina from the Last of Us game, Manny is a talented creator, with lots of detail and likeness to what I was after. Great communication throughout the entire process, highly recommend to anyone wanting that custom design and print job, I'll be definitely purchasing from this seller again.
5 out of 5 stars

angelo pilla on 25 May, 2023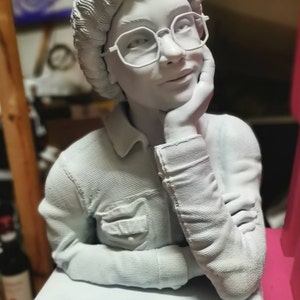 5 out of 5 stars
Manny is a true professional, available and open to dialogue.
Able to create a sculpture that becomes a work of art when you do it with love.
What can I say, with him you go on the safe side for everything. Thanks, Manny
5 out of 5 stars

Nadine on 28 Apr, 2023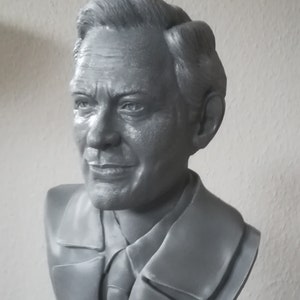 5 out of 5 stars
The bust is in high quality and Manny always insists that the customer is satisfied. If there are problems, we can talk about it.
That's what I like about him and appreciate. Looking forward to the next project! 🙂👍
5 out of 5 stars
FAQs-3D Sculpt & 3D print-Custom 3d figurines
Summing up!
Transform your favorite photos into unique 3D-printed statues with Custom Figurines! 📸➡️🗿 Capture memorable moments, beloved pets, or special poses and watch them come to life in 3D form.
Made with precision and love, these statues are perfect for gifting or personal keepsakes. Dive into the 3D experience and make memories tangible! 🌟🎨🎁
Stay awesome, stay creative! 🎈🎉👋
See you soon, and remember – if you can dream it, you can print it! 🌈🔮💜
About the Author:
Manny Acharya is the co-founder of Artmellows. Your go-to place for Design, Digital Art, Digital sculpting, Photography, Design Tools and gears Info, and Product Reviews. Manny is a Digital Artist, 3D Sculpt Designer, Ardent Photography, Drone flying Enthusiast, and tech Lover. He supercharges Digital Art and design by crafting memorable 3D sculptures & 2D Design and art. Learn more About Manny:
PS: Manny has created a Beginner Friedly ebook to Learn the Nomad 3D Sculpt App. Know More about the eBook. Know more about Manny