How to make money with Photography- 35 wonderful ways to make money with your Photography skills.
The art of photography may be used for so much more than just a pastime. Those who have an interest in photography are more likely to be tempted to transform their hobbies into profitable small businesses.
📈Checkout out our Latest and in-depth blog about 🌐The Ultimate Guide to start, grow and Make money in Photography Business
Anybody who enjoys taking photographs and has access to a computer, a camera, and some talent has the potential to make money in the photography profession.
There are a lot of different ways to generate money with photography, including the 35 incredible options that are listed below.
35 wonderful ways to make money with your Photography skills.
Do you ever picture yourself working as a photographer for a living? Do you have experience taking photographs, in addition to a camera and a computer?
You can generate money in the photography industry in a variety of ways, including editing images for other photographers, specializing in wedding photography, selling poster prints online, or any combination of these.
By focusing in one or more subfields of photography, many photographers have been able to build thriving small businesses for themselves; nevertheless, there are instances when broadening their efforts is the key to achieving financial success.
Are you interested in earning a living through photography? While there are a variety of venues to choose from, the next item to consider is where to sell photographs.
The following is a list of 35 different methods by that you can make money as a photographer:
Sell Stock Photography:
Websites that offer stock photography give photographers the opportunity to get royalties for the usage of their photographs.
Selling your photographs on stock photography websites such as Shutterstock and iStock is rapidly becoming one of the most common and lucrative ways to make money with photography.
Customers are given the option to acquire authorization to use a digital image for either personal or commercial purposes while using stock sites.
Photographers send their best work to stock picture websites, which subsequently include it among the products available for purchase in their online digital catalogs.
Clients make their purchases of stock photography online, download the images, and the stock photography website then distributes a portion of the earnings to the photographers who created the photographs.
Turn into a paparazzi

If you live in a location where celebrities are frequently spotted, you might be able to earn money by taking pictures of famous people at events and in their daily life as a paparazzo photographer.
While paparazzi work can be lucrative and photographers are generously paid for in-demand celebrity photos in cities like Los Angeles and New York City, the market is also difficult and fiercely competitive.
Offer Prints on Demand

Photographers who have a large body of work can open their own web shops and offer print-on-demand services.
Consumers can order prints of photos they want to own, which can be sold in a number of sizes and on numerous mediums. Available photos can be shown in an online gallery.
Instead of risking your investment in unsold prints by printing images in advance, just put your portfolio on display and wait for people to order their favorites.
Teaching Photography: Teach photography classes or workshops:

Do you consider yourself a seasoned photographer who can offer advice to others?
You may earn a living and encourage other would-be photographers by teaching them everything from how to choose a camera to how to set up a studio light.
It's possible to teach photography to groups of students in your own area, but many photographers find that they can reach a wider audience by sharing their knowledge with others over the web.
If you have a passion for photography and want to share it with others while also making a stable income, teaching photography at schools, universities, or workshops is a fantastic opportunity to do both.
Giving lessons in photography can be a lucrative way to earn money, especially if you enjoy imparting your skills to others.
Attract an online audience by imparting photographic knowledge in the form of interesting educational content, such as video tutorials on YouTube or Instagram or a webinar hosted on your own website.
The content or the website hosting the content might then be made commercially viable by charging users a fee for access.
The following actions can help you earn money while Teaching photography:
Improve Your Skills: You must have a solid base of knowledge and abilities before you can instruct photography. To ensure you have a thorough understanding of the topic, enroll in courses, read books, and put your photographic talents to the test.
Choose a niche: Make a decision regarding the photographic topic you wish to teach. It may be anything from simple photography abilities to sophisticated editing methods.
Decide Who Your Audience Is: Take into account the students you want to teach. Are professionals, enthusiasts, or novices your intended audience? Your teaching strategy will be more effective if you are aware of your audience.
Plan Your Curriculum: Create a well-organized curriculum that focuses on the knowledge and skills you want to impart. Create lesson plans and homework for each component of the curriculum after breaking it down into digestible chunks.
Choose a Teaching Method: Choose the delivery method for your photography lessons. This could consist of live workshops, online classes, or private coaching.
Decide on your prices and how much you'll bill for your photography courses. To make sure your pricing is reasonable, research the fees offered by other photography instructors in your neighborhood.
Advertise Your Services: Tell prospective students about the photography classes you offer. Build a website or social media profile to display your work and highlight your experience in teaching.
To expand your network of photographers and prospective pupils, go to photography events and workshops. Word-of-mouth advertising and referrals can be effective recruiting tools for prospective students.
Continue to Learn and Develop: Be current on the newest trends and methods in photography. Attend workshops, conferences, and online courses to keep refining your abilities.
Photographing events such as weddings, parties, and corporate events can be a valuable source of revenue for those who are interested in the field.
Also Read: Best Photography Course Providers ONLINE
Sell Real Estate Photography:
If you are interested in making money with your photography skills, one fantastic method to do so is to photograph houses that are either for sale or for rent.
Professional photographers may find it financially rewarding to capture images for real estate marketing.
Realtors require high-quality images to display the homes when listing the properties on websites and in trade publications.
More interest will be generated by images the better they are.
By honing your photographic abilities and capturing buildings in ways that highlight their best aspects and give them life, you can make money with photography.
Also read: 7+ Best RealEstate Photography Courses in 2023 [ be the best]
Product Photography
Several companies demand high-quality product photography for their websites, catalogs, and other forms of advertising.
Product photography is all about taking great pictures of things for advertisements, online stores, and marketing materials. It's crucial since it highlights a product's amazing qualities and benefits, making people want to buy it and giving the company some love.
To get a beautiful product shot, you must plan ahead of time, set up the shot correctly, and have optimal lighting. Photographers frequently utilize basic, clean backgrounds to ensure that the product jumps out. White and light hues are attractive because they provide a clean and professional image.
Lighting is extremely important in product photography. It can drastically alter how the finished image looks and feels. To achieve a balanced and appealing picture, pros typically combine natural and artificial light, like softboxes or LED lights. Shadows and reflections can also make the goods appear more intriguing by adding depth and dimension to the photograph.
Selecting the correct camera settings and post-production editing are also critical. A shallow depth of field can make the background all hazy and lovely, but a high-resolution image will clearly show off the product's intricacies. Photographers frequently touch up images and adjust colors to make them look great.
In a nutshell, product photography is essential for every marketing or advertising strategy.
Photographers may create eye-catching photographs that show off things in the best way possible by nailing the composition, lighting, and editing, making them enticing to potential consumers.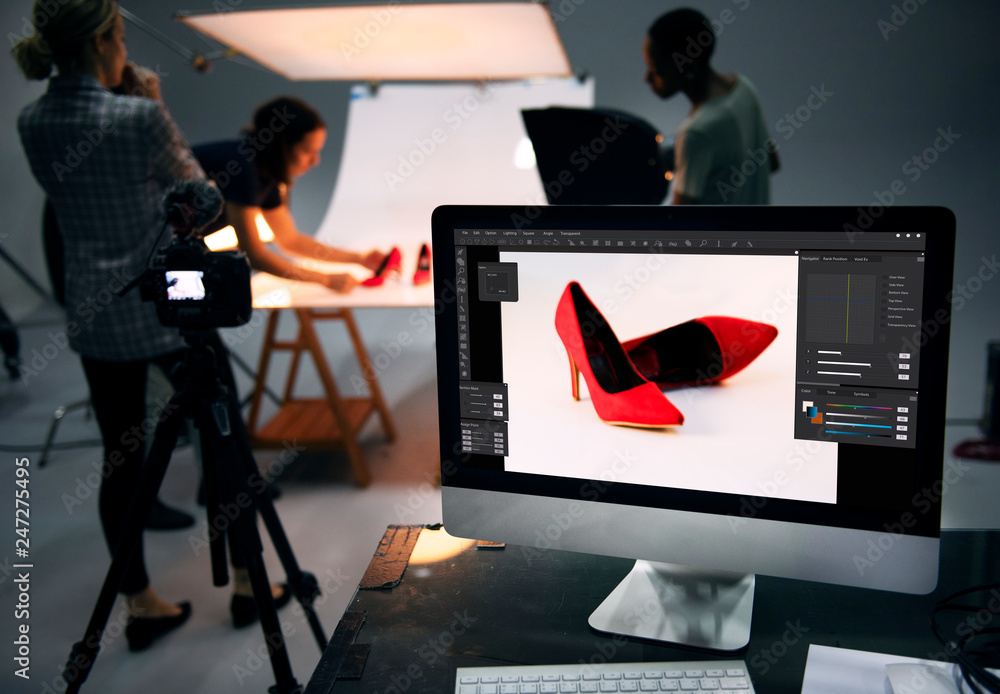 Food photography:
As a result of the demand from food bloggers and restaurants for visually appealing images of their cuisine, food photography has become a lucrative specialty area.
A food photography blog is a fantastic outlet for showing delectable photos, giving behind-the-scenes information, and offering insightful commentary on the field of food photography. Here are some things to add:
Portfolio: To show off your abilities and distinctive flair, display your greatest culinary photos.
Advice and methods: Share your knowledge by providing composition, lighting, and styling suggestions.
Recommendations for gear: Talk about the necessary cameras, lenses, and accessories for food photography.
Post-processing: Describe your editing workflow, including the tools, settings, and software you used.
Collaborations: List the projects you've worked on together with chefs, eateries, and food companies.
Food trends: Talk about how current culinary trends affect your photographs.
Personal anecdotes: To engage your audience, talk about your journey, difficulties, and accomplishments as a food photographer.
You can establish a strong internet presence, draw in clients, and position yourself as an authority in the field with the use of a carefully organized food photography blog.
Specialize in Portrait Photography
Portrait photography is a potentially lucrative business that entails photographing individuals, couples, and families.
All demographics continue to place a high value on portraiture as a result of the constant desire for high-quality images of families, couples, teams, and individuals.
A portrait photographer can set up shop in their home or travel to capture pictures in public places like malls and schools.
Everyone is capable of taking their own photos, but not everyone is a talented photographer who has mastered the art of taking portraits and doing picture editing.
Specialize in Pet Photography
Photography of Pets As the number of people who own pets continues to climb, the subfield of pet photography has become increasingly prominent.
Do you connect with animals well?
As more people try to capture priceless memories of their furry family members, the niche of pet photography is gaining in popularity.
Promoting pet photography, which may be done in a studio but is more frequently done in settings like parks and clients' homes, can be profitable for photographers who can build rapport with pets and who have the reflexes to capture ephemeral photographic moments before they pass.
Make Money with Travel Photography

Photography for Travel: If you have an eye for capturing breathtaking landscapes and famous monuments, you may find success in the field of travel photography.
Combining your love of travel and photography with a lucrative business venture can be quite rewarding. The following advice will help you earn money from your TRAVEL photography:
Choose a niche: Concentrate on a particular area of trip photography, such as Solo, couple or family Travel Photography. This will make you distinctive from other photographers and draw in a particular clientele.
Make a Powerful Portfolio: Put your greatest travel photography work in a portfolio. This will make your expertise and skills more apparent to potential clients.
Choose Your Market: Find possible clients like travel agencies, tourism boards, and publications that would be interested in your trip photography.
Sell Your Services: Speak with prospective customers and mention that you are a vacation photographer. Make sure to emphasize the advantages of using an expert photographer for their requirements.
Internet Marketplaces Where You Can Sell Your Travel Photographs Included in this list are Shutterstock, Getty Images, and Adobe Stock.
Produce Stock Photography: By selling their images on stock photography websites, photographers can receive royalties. To sell on these sites, think about building a collection of stock trip images.
Sell Prints: Make your vacation photographs available for purchase as prints on your website or through a print-on-demand service.
Provide Photography Workshops: If you want to help people learn and grow, think about facilitating seminars on trip photography.
Offer your vacation photos as a freelancer to publications and websites that deal with travel and tourism. Working as a freelancer for these publications can help you develop your portfolio and gain visibility.
Use Social Media: Post your trip pictures on sites like Facebook and Instagram to grow your fan base and draw in new customers.
Photograph Events to make money

The need for photographers is not just strong for weddings. People adore having images to recall life's special moments, whether they are company events, homecoming dances, or family reunions.
While some event photographers take individual photographs and charge guests for the photos, others are contracted to capture a portfolio of images for the organization.
Photographers can take advantage of important networking opportunities and grow their small companies by handing out their business cards at events.
Become an Instagram, TikTok OR Pinterest Influencer

You can monetize your social media presence as an Instagram Or Tiktok influencer if you consistently publish interesting, high-quality photos to social media sites like Instagram and amass a sizable follower base.
Influencers create a tonne of social media material, which they then monetize by doing things like taking donations, selling products, and promoting affiliate links.
Become an expert in baby photography

Are you naturally good with children? Working as a baby photographer might pay well if you have the ability to connect with children through your lens.
Virtually every new parent wishes they could freeze those fleeting moments when their kids were infants, but taking good pictures of babies requires a certain level of expertise.
A photographer who hones these abilities and focuses on newborn photography might profit from a high-demand market that calls for a specialist with the correct temperament to work with children.
Sell catchy posters and merchandise

Photographers can turn their photos into eye-catching wall art to advertise to the public on websites that specialize in posters.
Consumers looking for captivating poster-sized photographs can buy prints on websites like Redbubble, and the photographer gets a cut of the proceeds.
Selling their images for printing on items like phone cases, stationery, apparel, blankets, and more is another way that photographers can generate money.
Freelance for a Magazine ( Online or Otherwise)

Selling your photographs to magazines, newspapers, and other print and online media outlets can help you support your photography hobby.
Other independent photographers capture pictures they think would be of interest and sell them to the highest bidder, while some freelance photographers take assignments from certain newspapers.
Several publication areas, including travel, recreation, and entertainment as well as auto sales and real estate listings, use freelance photography.
Photographing sporting events
Photographing sporting events and sportsmen may be a lucrative area of specialization in the photography industry.
Photography for commercial use:
Photography for commercial use: Commercial photographers collaborate with companies to develop branding and advertising campaigns as well as marketing materials.
Photographing automobiles for use in ads, publications, and by individuals who are passionate about vehicles may be a lucrative specialized field.
Aerial photography
Aerial photography is becoming increasingly popular as a means of capturing aerial images of landscapes, real estate, and events. Drones are typically used for this type of photography.
Make money by Picture editing and retouching

To make money with photography, you don't have to be the one taking the pictures. If you are a photographer who is skilled in photo editing and retouching, you can start a small business doing the work for other people.
Even a basic camera will work for photo editing. All you need is a computer and one of the many photo-editing programs that are readily available.
Offer Workshops on Photography
Workshops on Photography Running a workshop on photography where you teach others your knowledge and talents can be a very lucrative method to earn an income.
Photography Tours
Photography Tours Becoming a guide for photography tours and workshops may be an enjoyable way to make money while also allowing you to see the world.
Freelance photography
Freelance photography is a form of photography in which the photographer is hired by the client on an as-needed basis.
For photographers looking to make a career while retaining their independence, freelancing is a fantastic possibility. It entails collaborating with clients to deliver specialized photography services while working on a project-by-project basis.
Weddings, events, portraits, product photography, and many other types of photography are all included in the broad category of freelance photography. Y
ou may choose your clients, choose your rates, and set your own hours as a freelance photographer. Yet, having good photographic abilities alone won't make you a successful freelance photographer.
Also Read:
About the Author:
Manny Acharya is the co-founder of Artmellows. Your go-to place for Design, Digital Art, Digital sculpting, Photography, Design Tools and gears Info, and Product Reviews. Manny is a Digital Artist, 3D Sculpt Designer, Ardent Photography, Drone flying Enthusiast, and tech Lover. He supercharges Digital Art and design by crafting memorable 3D sculptures & 2D Design and art. Learn more About Manny:
PS: Manny has created a Beginner Friedly ebook to Learn the Nomad 3D Sculpt App. Know More about the eBook. Know more about Manny