Pinterest Marketing Strategy for Designers to get High Traffic to your Blogs in 2023
Most Small Biz owners & Bloggers try to make every dollar stretch as far as they can:- even in their marketing budget.
Many small business owners typically focus on things seen as more important than social media.
However, some social media platforms have an incredible reach that you don't want to neglect.
Over 70% of Pinterest users are women
Pinterest has over 433 Million active monthly users in the Q1 of the year 2022, and 94 per cent of top brands use the platform.
79% of Pinterest revenue is generated in the US, despite only 20% of users being located in the country
If you're looking to use Pinterest to market your small business without spending too much, We have created a list of ideas to help boost your design website Traffic and grow your design business.
Pinterest, did you say? If you are thinking it's just the go-to place to find cooking recipes, Makeup stuff, and ideas for home decor? think again it's more than that.
Pinterest has actually made a name for almost anything you could find as a visual search engine, hosting tonnes of photographs, graphics, or links.
What exactly does it mean to market on Pinterest?
Utilizing Pinterest as a tool to help achieve your marketing objectives is the essence of effective Pinterest marketing. Whether that means boosting traffic, enhancing the quality and quantity of lead opportunities, or simply selling more products.
Pinterest is wonderful, and it has some astonishing statistics that ought to pique the interest of every marketer.
Sixty per cent of users say that they use this platform more than other social networks, such as Facebook.
72% of people say that looking at pins makes them feel inspired to make a purchase right away.
The number of active users on Pinterest has increased to 442 million in 2022, representing a year-over-year growth of 37%.
Pinterest attracts the most traffic from other websites than any other social network.
This means that Pinterest is a "HOT" platform for any business, be it Photographers, designers, Real estate Agencies, Interior decorators, Dentists, Business coaches, Finance, or vet Practice, with a visual aspect to your business.
In reality, 55% of users are on the platform to specifically take pictures of new products/Services, before/after pics, Quotes,
Tips and Hacks, Advice, How to Posts, and the platform to absolutely perfect to drive traffic to your Content-based Niche website.
Creating a Pinterest strategy for your Blogging business is the best thing to do.. In this Blog, let's look at some smart & Cool ways to use Pinterest for marketing your website on Pinterest..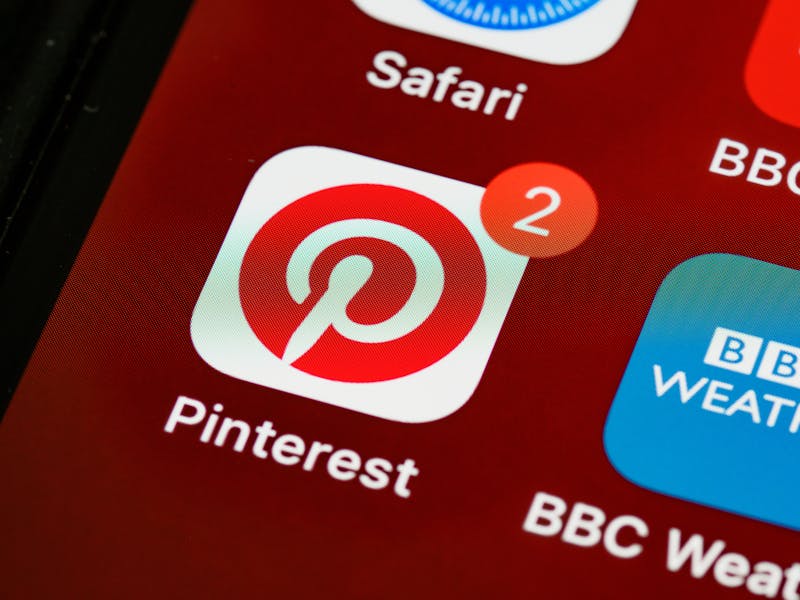 Knowing the Pinterest Algorithm-Pinterest Marketing Strategy for Blogging Business
Pinterest is a Visual search engine and It's so straightforward.
We know that Google SEO is somewhat similar to many key ranking factors of Pinterest SEO In this sense, the best way to market and expand your brand on Pinterest is to find a balance between the use of strong SEO signals and the creation of useful, emotional or thoughtful content that satisfies the desire of searchers( a.k.a Search Intent of the Searchers).
When it comes to Pinterest, having a solid understanding of the platform's algorithm is absolutely necessary for success. The algorithm is the component that chooses which pins are displayed in the feed of a user and in the search results for that user.
Due to the rapid pace of change, it is essential to ensure that you are always abreast of the most recent fashions. You can take a few different steps to increase the likelihood that the algorithm will notice your pins, and here are those steps.
Make sure your pins look appealing to the eye by using high-quality images and use relevant keywords.
You can increase the visibility of your pins in search results by including relevant keywords in the pin descriptions you use.
Engage with other Pinterest users and maintain an active presence on the platform.
When you have more people engaging with your content, the more likely it is that it will appear in the feed of another user. The most recent update to the algorithm that powers Pinterest is intended to make it so that users see pins that are more pertinent to them.
The algorithm examines a user's previous pinned items and then searches for additional pins that are comparable.
How to Create Visually appealing Pins
Use Canva.. Yep! we use Canva Tool for all Our Pins. Well, you'd say "I'm a designer I will like to use Photoshop or any such software to make creatives". Indeed, you can use Photoshop, if you prefer
Trust me, when it comes to Canva for Marketing Creatives. Canva has many Inbuilt templates that you can use to Create Visually appealing Pins quickly.
The most successful Pins are those that are visually appealing, tell an interesting story, and inspire people to want to find out more information. If you follow these pointers, creating fantastic pins won't be difficult at all.

Templates for pinning on Pinterest

Make graphics that are worthy of being pinned and draw attention to your Pinterest board by using these Pinterest Pin templates, which are easy to customize. You can edit it in a matter of minutes using beautiful images and striking typography from the Canva media library.
BELOW YOU WILL FIND A COUPLE OF TIPS THAT, IF YOU KEEP THEM IN MIND, WILL ASSIST YOUR PINS IN RANKING HIGHER IN PINTEREST SEARCHES:
When designing graphics, remember that the optimal ratio for Pinterest pins is 2:3. On Pinterest, vertical posts perform better, and the recommended dimensions for them are 735 pixels wide by 1102 pixels tall.
Include a compelling copy in your images, such as an attention-grabbing headline and a call to action (call to action). Make sure that the hierarchy of your types can be easily seen, and that the order in which important phrases stand out in the way that you intend for them too.
Use fonts that are simple to read and limit the number of fonts you use to no more than three. Avoid using fonts that are overly flourished or extremely thin because these are the types of fonts that are the most difficult to read. When it comes to legibility, more traditional fonts are almost always the safest bet.
Make sure the images you choose are relevant to the subject matter and consistent with your brand.
Keep the graphics you use on Pinterest clean and uncluttered by avoiding busy fonts and unnecessary embellishments.
For each piece of content, you produce, design multiple graphics and pin them to a variety of different Pinterest boards.
To increase the likelihood of your Pinterest pins going viral, try using a variety of different copies on them. You should make sure that it is always relevant, but you should also try out different phrases and emphasize different aspects that are important to your post to see what grabs the attention of your audience the most.
In the descriptions of your pins, make use of descriptive keywords and include a few hashtags that are relevant.
Check to see that the pin you uploaded to Pinterest links back to the correct page or post.
Do some research on current trends.

In order to maintain a competitive advantage, it is essential that you remain abreast of developing trends. Researching the most popular content and topics that are currently trending is essential to the process of developing original, one-of-a-kind pins for your clientele.
Although it makes no sense to venture outside of your core categories. Nothing stays the same for an extended period of time on most social networks. The platform is continually being updated with new eCommerce tools and technologies, which causes it to improve and expand.
New Tool Alert: a brand new tool has been released! Pinterest Trends
It is possible to search Pinterest trends in the United States, the United Kingdom, and Canada, which makes it even simpler to determine what kinds of posts you should be sharing and what keywords you should use.
You can even compare keywords to find out which ones are more popular, and you can also view popular pins, which can provide you with inspiration for creating your own original pins (and which related keywords to target).
Complete the research you were doing on keywords.

This is the most significant and essential stage of the process.
Create a list of the keywords you want to focus on while you are conducting your research on current trends. People find the majority of pins by typing keywords into the search bar, which means that you need to optimise your pins in order to be found if you want them to be discovered!
Manual Research on Keywords
If you want to do additional research outside of the scope of the trends tool, you can go to Pinterest, type in the key phrases you're targeting, and then look at the keywords that are suggested to you. When you do this, you can start with one primary keyword and end up finding a huge number of variations!
For instance, let's say you want to advertise products for the Design work . Put your keyword ideas into Pinterest, and take a look at what comes up automatically:
Hashtags
Both the Pin description and the Board description are where you should include hashtags.
As a helpful hint, many people recommend beginning your hashtag string with a branded hashtag.
Because only the first few hashtags are clickable and appear in the feed, using a branded hashtag as the first one enables users to see all of your branded content when they click on the hashtag.
Utilize a combination of extremely specific search hashtags, such as #ThanksgivingDinner, and general hashtags, such as #Holiday. Pick no more than 20 hashtags, but make sure to use at least 5 of them.
A straightforward method for achieving this is to perform a search on Pinterest for each individual key phrase and examine the pins created by competitors to identify the terms they use. You are free to make use of their research in place of conducting your own.
What are the most common categories of hashtags on Pinterest?
Hashtags denoting specific locations: #sydneydesign and #desognsydney
Hashtags for the industry: #homedesign and #interiordesign #Photgraphy
Hashtags for the holidays: #Fourthofjuly and #christmaseve #NYE #Halloween
Hashtags for specific brands include #Canoncamera and #Amazondesigns
Create a Pinterest Biz Account and Claim Your website
This is a crucial step. Confirming your website will enable you to see what other users pin from your website, add your Pins Logo, and enhance the search results for your Pins.
If you are using WordPress Read this Article for step-by-step process to verify your wordPress website
Create boards with keywords in your title
We usually see that this is one of the things that Pinterest users don't do properly. It's almost as important for your Pins to use your board titles and descriptions as keywords.
Boards can be searched, even if people aren't very often looking for boards. Furthermore, the Pinterest algorithm sees the keywords used in the boards to determine and classify the content.
A description is added to a board in just a few minutes. Just think about how you would describe somebody's content on the board, and make sure there are your keywords.
Pro Tip: Use a Pinterest Ad account to get all the relevant Keywords for your Niche. For Example, If your Niche is 3D design use Board names like design, home design…… and so on.
Here are the QUICK Steps
Go to the Ads tab in your Pinterest account and Create a new Ad campaign( Do not run the ad just create a campaign)
Add the Required details on the page and press next
On the second page( Ad group details page) you get the option for Keywords.. Put your niche for example 3d Design you get the following list. Select a few of these as the name of your Board. VOILA it's done!!
Build relevant links back to your website or blog.
For your blog post, you created a pin. In your Pinterest account, you are the first person to add your blog post to a board.
If you don't have a Pinterest account, this step is not required. Your post does not appear in Pinterest at this point, however. You created only a pin to be used by somebody.
Specifically, create a Pinterest Board for your blog posts. This facilitates finding your blog posts and even tracking your blog board for your followers.
Make your blog board name similar to the title of your blog.
For example, you can call your Pinterest blog Board the same as your blog name, such as "RealEstate Tips" or " My Pets Blog," and if you are a vet Practice and want to spread the word via Pinterest.
Make sure to Link your Blog article/Blog Link in the pin.
It is more likely to show in search engines if you name your Pinterest board with keywords.

Make Multiple Pins for the Same Article
Most people make an image header for a post. All that's fine, but you miss out on valuable traffic if you miss the keywords mark, or your pin is buried.
We always advise you to produce more than one pin per item. It does not take the time to create additional pins as the first one. You simply have to change the background image or the text a bit.
You can test various keywords and descriptions and take various hashtags to reach a much broader public by creating more than one pin.
Acquaint yourself with the various types of pins that are available.
The most important aspects of your marketing strategy on Pinterest are the pins and boards that you create.
There are many distinct types of pins available, and while they all have their uses, some pins are more effective than others. The objective here is to locate content that will be useful for your company.
Pins that include a compelling call to action and demonstrate how a product or service might be used perform exceptionally well. It is also recommended that you promote special offers and include brand names as well as specific pricing information.
The following is a list of the various types of pins that can be used:
Shop the look pins are pins that allow users to find products and purchase them directly from the pin itself. These pins are also referred to as buyable pins.
Story pins are pins that tell a story through the use of text, images, and links. Some examples of story pins include step-by-step guides, DIY projects, recipe curation, and collection curation.
Product pins are visual representations of up-to-date information regarding the price, availability, and product descriptions of the products sold on your website.
Rich pins are organic pin formats that provide more information and context surrounding the pin. Rich pins can be found on Pinterest.
Pins that play videos allow you to tell a compelling tale and hook people into a visual representation of how your products are used in the real world.
You can use article pins to generate headlines, titles, and descriptions about a post that you have written for a blog or online publication.
Add the Pin-it Button in your Blog posts ( On your website)
The pin It button can be used to pin your blog post easily. If you add the button to your website, you supply all pin description information. You can use this Plugin if you are in the WordPress CMS Platform.
Your blog visitor can quickly and easily click the button and pin your post.
You must add the Pin-It button individually to every blog post, unlike other social media sharing buttons.
That is a little extra work, but setup and installation only take a few minutes.
Track Traffic to Your Blog from Pinterest
Now Your blog appears as a Pin on your keyword-specific Boards. Other people see your pin, and they will click on your blog post if it is interesting.
You can also replace your blog post to share with the followers
You can track traffic from Pinterest to your blog post in several ways. Use the tools you have on your blog to monitor the traffic.
For example, in a WordPress blog or Google Analytics, blog stats can be used in JetPack.
Build authority on your topic by curating boards with great relevant content
Now you are ready to start creating boards and begin pinning: give users the chance to find them and give them a reason to follow them.
But keep it in mind. This requires a thorough, strategic approach, as with any social media platform, to increase successfully the reach, followers, and eventually sales; it demands a marketing strategy from Pinterest. Pin Other Business's Pins ( that are suitable to your Industry).
Make sure Fresh Content Flowing Through Your Boards
New and Fresh pins and consistency are half the game in Pinterest. You want more content to be uploaded to be rewarded. It could not literally be easier or faster if you were to use Tailwind.
You can load dozens of pins a day in advance for weeks and simply set them and forget about them.
It is better to share the information of others than nothing if you don't have much content of your own yet.
The stronger the keyword signal and relevance these pins will have in the search results, the greater the content of your panels.
Write Search Engine Optimised Pin Description
It's like writing a summary or an extract of your blog to write your pin description.
Tell people always about the advantage of reading more. The description of your pin should be:
Tell people what to expect in your Blogpost
Leave some mystery so people would like to read more.
Enter all appropriate search terms for the Blogpost.
While the pin description can contain up to 500 characters, shortening is better always.
In your description, you can also enter a web address and hashtags. Hashtags are search words beginning with the hash symbol (#).
For instance, if you include in your designation the Hashtag "#Realestate," Or # Digital Marketing, you can immediately search through the Hashtag by clicking on it.
When it comes to SEO, Your pins on Pinterest are nofollow backlinks.
However, you can improve your SEO using Pinterest simply by:
Creating and sharing content that Pinners are most likely to click on
Having visually appealing board covers
Use the right keywords while naming boards, in board descriptions, and in pin descriptions.
Being an active user: Be sure to pin more than 5-6 times a day.
In any online marketing strategy, Pinterest must form part of it.
This is only so important. It's an easy way to communicate with, promote and build your online presence, with your audience.
By using the above tips we covered, all kinds of businesses can be promoted and the huge public of content-hungry Pinterest users who are looking for what you offer…
Use Tailwind App to schedule Pins( Optional)
Even while Tailwind doesn't have as many features as other platforms, it's still a fantastic tool for scheduling posts on social media.
it is optimised Particularly for Pinterest marketing,
One of the best parts of the Tailwind app is the Tailwind Communities function. It's a potent approach to stand out and engage Pinterest users.
A graphic design tool is a useful tool for quickly producing designs.
It would be preferable to use a separate graphic design tool like Canva, but it's fantastic to have this functionality included in a social media scheduling tool.
The best part is that Tailwind has a plan for everyone, regardless of the size of your audience.
Starting with a plan that is free forever, you can
Wrapping up Note

Pinterest is successful in a number of areas in which other social networks are unsuccessful. Pinterest's mission, in contrast to that of most social media platforms, is not so much to keep users on the platform as it is to help them discover, save, and explore the content that they come across. Because of this, it is an excellent location for businesses to conduct their operations.
However, in order to truly succeed at marketing on Pinterest, you will need a strategy that has been carefully planned out and requires appropriate research, as well as great social visuals. After all, if the image on the pin isn't interesting or doesn't grab people's attention, then no one will interact with it.
When it comes to design, we have some experience under our belts. We have assisted major brands in the launch of fruitful Pinterest marketing campaigns by developing a wide variety of pin visuals to aid in the achievement of their goals on the platform.
Over to you…
What are your thoughts? Have you found an audience for your blog on Pinterest? Have you created customized images for your posts on Pinterest? What is working well for you? Share your insights and experiences in the box below.
Blogging Business-related Blogs